The Davis Cemetery District is pleased to announce the opening of our Memorial Rose Garden. Located in the southeast section of our historic grounds, nestled between the creek swale and memorial fountain, the rose garden is sure to bring peace and tranquility to our visitors. This area features two niche pillars, each space able to hold up to two sets of cremains.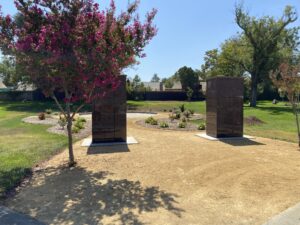 Niche Pillar Pricing:
Rose Garden Niche Plot (includes engraving): $2,500.00
Endowment (forever care): $500.00
Interment Fee (Open/Close/Service)(per person): $650.00
Total: $3,650.00(single)/$4,300.00 (double)
If you are looking for a non-traditional way of honoring a loved one in this space, we offer the following programs: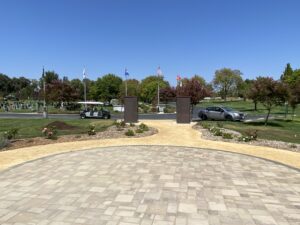 Rose donation with memorial plaque: $300.00 tax-deductible donation
Bench donation with a personalized inscription: $2,000.00 tax-deductible donation
Memorial brick engraving on the patio: $500.00
The district would like to give special thanks to the team of UCCE Master Gardeners – Yolo County who have spent countless hours designing, planting, and maintaining the rose garden beds.