The Davis Cemetery District recognizes traditional casket and cremation interments are not always the options people are looking for. Many families are looking for a way to memorialize their loved ones, without interring remains. Below is a list of non-traditional memorialization options we offer. Our office staff is happy to help you select a memorialization option and answer any questions you may have. Staff can be reached by calling (530) 756-7807 or emailing judy@daviscemetery.org or jess@daviscemetery.org
Scattering Garden: 
If you are looking for a scenic location to scatter your loved ones' cremains, the district's scattering garden may be just what you have been looking for. When selecting the scattering garden, you can choose a scattering location anywhere amongst our 24 acres that is not an active grave. You can then personalize a brick to be placed near our memorial fountain or within our rose garden patio.
Our staff will work with you to determine a scattering location and walk you through the process, before scheduling your service.
Scattering garden cost (Davis-resident): $700.00
Bench Donation: 
Whether you have a loved one interred or not at the cemetery, we offer a bench donation program as a memorialization option. You will work with the office staff to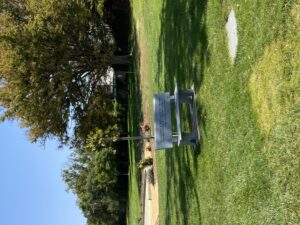 determine an appropriate location for the bench and will personalize inscription to be included on the bench. Since the bench is being gifted to the cemetery grounds, the cost is tax-deductible.
The granite benches are ordered through a local monument company who will provide you with an inscription proof to approve before the bench is engraved.
4′ Garden bench without a backrest: $1,500.00
4′ Garden bench with a backrest: $2,000.00
Rosebush Planting: 
Our newly planted rose garden is home to 17 different Floribunda and Hybrid Tea varieties. Planted by the UCCE Master Gardeners – Yolo County, this garden has been designed to accept roughly 20 rose donations. You will choose from a list of pest-resistant varieties and personalize an inscription to be included on a garden stake which will be placed with the rose.
Rose bushes are planteded in the fall and spring to ensure the best rooting possible.
Rosebush, with personalized garden stake: $300.00
Rose Garden Brick Program: 
The rose garden, located on the south side of the cemetery grounds, includes a large patio at the center of this garden. Families looking for a way to memorialize a loved one can have a large patio paver engraved. You will choose the personalization and location of the paver.
Large Engraved Paver: $500.00