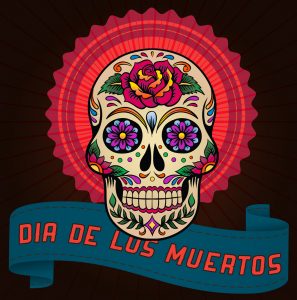 On an annual basis, the Davis Cemetery District holds a Dia de los Muertos (Day of the Dead) celebration on our grounds. This celebration is one of the last Mesoamerican indigenous influenced rituals, honoring mother earth and all ancestors. This celebration is part of an effort to create a community, a sense of belonging, and global awareness of cultural richness in our multicultural society. The Dia de Los Muertos celebration includes a variety of artists and performers, as well as a collective altar honoring all ancestors. This event is free and open to the public. Everyone is welcome to contribute to the public alter. Everyone is encouraged to bring chairs, blankets, and enjoy the day.
Due to COVID-19, the District has made the difficult decision to modify this year's celebration, keeping health and safety our highest priority.
2020 Dia de los Muertos Event Information
Friday, October 30th through Sunday, November 1st
Informational signage will be placed along our eastern internal roadway, just north of the memorial fountain.
At the end of our eastern roadway, we will display a public altar for viewing. We also welcome contributions to the altar.
Local Artist, Judy Catambay will be painting a temporary public plaza mural that can be viewed throughout the weekend. More information about this mural can be found below.
Ven a honrar a los antepasados y seres queridos, que han cruzado al mundo de los espíritus.
#Plan4Resilience
Judy Catambay will be painting a temporary public plaza at the Davis Cemetery District and Arboretum on the corner of Pole Line and Eighth Street for the Dia De Los Muertos (Day of the Dead) celebration, as part of a public art project called #Plan4Resilience. In #Plan4Resilience, artists are asked what we can learn from the pandemic and what lessons we can carry into the future to build resilience for future challenges, including the climate crisis. #Plan4Resilience artists create temporary pavement paintings in parks and plazas to honor public holidays and lift our spirits while reflecting on long-term resilience.
Judy Catambay is a local artist and art teacher working in ceramics, mixed-media painting, and street murals. The pavement mural for Dia De Los Muertos is especially meaningful to Judy after the recent passing of her mother. She explains, "It's a way to honor her life. The vision for the mural will be inspired by her legacy of kindness and perseverance. These are the qualities we need for resiliency in the future."
#Plan4Resilience is funded, in part, by a generous grant from the City of Davis Arts & Cultural Affairs Program.