Are you looking for a way to educate your child(ren) about the cemetery while exploring our expansive grounds?
In Marc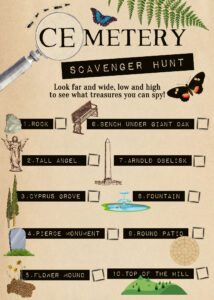 h 2020, the District saw an increase in families utilizing the cemetery grounds to get outdoors while practicing social distancing during the pandemic. We have developed a 10-stop educational tour that is designed similarly to a scavenger hunt as a way to educate youth about the cemetery and support healthy outdoor activities for children and families.
We invite you to print the tour here or visit our office Monday – Friday from 8 am to 3 pm to pick up a hard copy.
Once you complete the tour, feel free to stop by the main office to pick up a prize.
Looking for other outdoor activities? Visit our 10 Things-to-do page here.