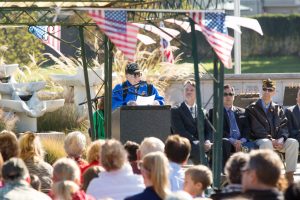 The Davis Veterans of Foreign Wars Post 6949 and the Davis Cemetery District hosts an annual Veterans Day ceremony at the Davis Cemetery & Arboretum, 820 Pole Line Road.
Davis Scouting groups will place the flags on the graves of veterans early that morning and pick them up that evening.
We always appreciate volunteers for setting up, aid in the handing out of programs, and the removal of flags later in the afternoon. Please contact jess@daviscemetery.org if you would like to help.
2020 Event Details
Due to COVID-19, The Davis Cemetery District will not be hosting a formal Veterans Day program. Flags will be placed at each Veteran's plot and along our internal roadways.
A big thank you to the Davis Scouting groups who will place the flags on Wednesday, November 11th, and gather them on Thursday, November 12th.
2019 Event Details
The Davis Cemetery District and the Veterans of Foreign Wars, Post 6949 are pleased to bring you this year's event on Monday, November 11, 2019, from 11 am – 1 pm.
Keynote Speaker: Bruce Carswell, WWII Veteran
This year's program will feature performances by The Davis Brass Ensemble, National Anthem by Carol Kessler, and musical selections by the Davis High School Madrigal Choir.