WE ARE UNDER CONSTRUCTION!
The Davis Cemetery District is pleased to announce that we have broken ground on a section expansion which will bring 68 new casket plots and 12 double cremation plots to our historic J section. Under direct supervision of the Grounds Foreman, Matt Ries, our grounds crew has been demolishing an old hearst turnaround pad to make way for the new plots in the highly desirable historic section of the cemetery. Dylan Weiss is managing backhoe operations while Daniel and Sawyer are the eyes and muscle on the ground as the concrete is pulled in sections and placed in concrete recycling containers. A big thank you to Recology for being so accommodating with our concrete disposal schedule.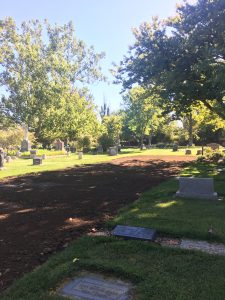 July 24th UPDATE
The J section expansion is coming along nicely. Our dedicated grounds crew have rerouted irrigation and graded the area. We will be seeding the plots over the next week and are on track to begin selling the plots September 1, 2019.
August 8th UPDATE
The grass is coming in nicely and we are on schedule to open sales September 1, 2019.
August 21st UPDATE
The Board reviewed an initial pricing structure proposal on August 21st and will set pricing at the September 18th meeting. Plots will be available for sale beginning October 1, 2019.