Susan Brady Exhibition
September 1, 2021

-

September 30, 2021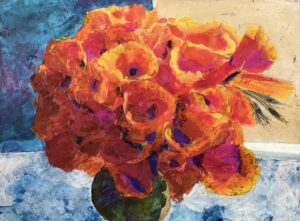 Artist Statement, Susan Brady: 
I came to Davis as a student in 1957. I fell in love with the place, and have called it home for most of my life. One of the greatest gifts of my life was to be a part of the fledgling art
department at UCD. The incredible art teachers there opened a whole new world to me. I became an art major and was one of the first graduate students at a time when UCD was at
the center of much that was happening in the art world.
Art was not to become my life, at first. I spent the next forty years involved in the city and raising four children. My only claim to fame is The Farmer's Wife Bakery and Coffee House that I opened in 1979. It was a Davis fixture for almost twenty years.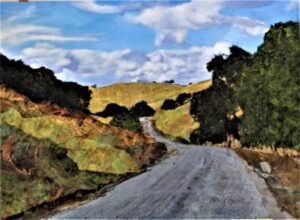 After I retired, I started painting again. Needless to say, things have changed a great deal since I graduated from UCD. I started experimenting with materials in my art, and there is not
much that I haven't tried. Then I tried paper, a medium that has consumed me of late. I dye paper and then use it like paint. I also use oil paint, photos, and anything else that works.
I paint landscapes because I am passionate about the environment. It is not the spectacular that invites me to paint, but the everyday beauty that surrounds us. That is what is changing,
what is most threatened. I want people to notice what is around them and be moved by it.