Jane Thompson Exhibition
December 1, 2019

-

December 31, 2019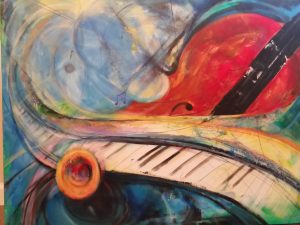 Local artist, Jane Thompson will be displaying a collection of her work in Gallery 1855 for the month of December.
Jane has been an artist and bass player most of her life.
Jane is always looking for new ways to express herself artistically and musically. Music inspires her art and art inspires her music. Jane's preferred art medium is acrylics, collage, watercolor and embroidery.
Jane has artwork in many private and public collections including Sherman Ellison, Att., Joe DeHope, Att., Dr. Sam Wallis, Jack Cassidy, Mickey Hart, Charles Baty, Father Paddy's and Woodland Unified Methodist Church. Some of Jane's commissioned artwork includes portraits, landscapes, abstracts, book covers, promotional material, business card design, painting on musical instruments and embroidery on clothing and accessories.
When Jane was 7 years old she was entranced watching a landscape artist painting a very large and breathtaking painting using only a 4-inch house painter's brush.  It was a lesson in freedom of expression and the magic of the paintbrush. It is a lesson that has stuck with Jane to this day and is an ongoing source of inspiration.
Public art exhibitions include Blue Wing Gallery, Gallery 625, Father Paddy's, Wirth Furniture, Burger Saloon, and Blue Note Brewing in Woodland, California, Cafe Zorro in Loomis, California and Level Up/Thai Basil and Java City in Sacramento, California.