Different Strokes Painting Group Exhibition
February 1, 2022

-

February 28, 2022
DIFFERENT STROKES PAINTING GROUP
The Different Strokes painting group began roughly 11 years ago as artists in the excellent critique sessions at the Davis Art Center. Over the years we have lost and gained a few members and now number 8 artists: Ann Teal, Anne Lincoln, Dick Stern, Gai Perry, Irene Osuga, Janice Long, Larry Mitchell and Linda Ayre. Though we paint in different media and styles, we share a common interest in improving our own and other's paintings through frank, supportive critique, dispensed at our meetings held every few weeks. Over the years we have had several well-received group exhibitions in the Davis area.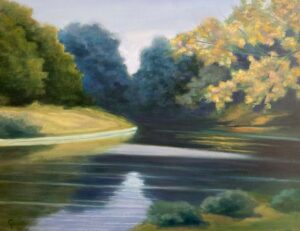 Gai Perry 
I paint for the sheer joy of it. I'm not interested in making political statements or shocking the viewer with the outrageous subject matter. When someone looks at one of my paintings I want them to experience the joy of color…the rhythm and graceful movement from one area to another. I love to manipulate light and shadow to create drama and perhaps an impression of space and loneliness. 
Ann Teal
Since childhood, I have enjoyed drawing and using colors, a way to express strong feelings of beauty in both nature and common objects.  My paintings also serve as a personal diary, often documenting an especially interesting object, arrangement, or place that I wish to remember.  
My main formal training has been thru classes at Davis Art Center and workshops.  For the last 20 years, I have been a part of the Different Strokes Critique Group as well as painting one afternoon a week with a friend, both of which have helped my style to develop.
Anne Lincoln
Taking numerous photographs for inspiration, I enjoy exploring the beautiful vista of Northern California and beyond.  Although I am primarily a studio landscape painter (with brief forays into plein air work), I combine my photos and sketches and on-site notes to express my own vision.
Larry Mitchell
I now pursue my design and artistic interests primarily by painting with watercolors.  Subject matter varies, including landscapes with architectural features such as the Davis Varsity Theater, San Francisco cable cars and scenes of nature including the pacific coast, Yosemite Valley and Putah Creek.
Painting with watercolors allows me to explore a variety of techniques and painting styles that I find exciting and enjoyable.