Don Harting Exhibition
September 1, 2019

-

September 30, 2019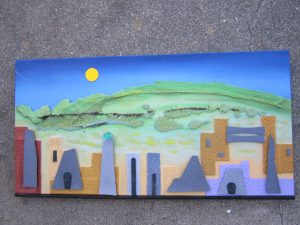 FANTASY MIXED MEDIA LANDSCAPES, By Don Harting
When Don Harting retired in 1995, painting was on his to do list.  He started at the Davis Senior Center oil painting group and has displayed over 100 paintings somewhere in the Davis area.  Most of his paintings have some type of "natural material" somewhere in the details with oil paint on the surface.
The current display is 12" X 24" in size and all have been done during the last year. They have a 3D look since they are actually one painting on top of the raised detail.  The raised detail can be parts of trees- bark and limbs or sand, stones, anything you might pick on a walk around town.  A couple of neighbors have delivered parts of trees that looked interesting to them, for my use.
I share my studio with my automobile and people passing by know I am there painting because the Public Radio station is blasting away.  They are welcome to see what is new.